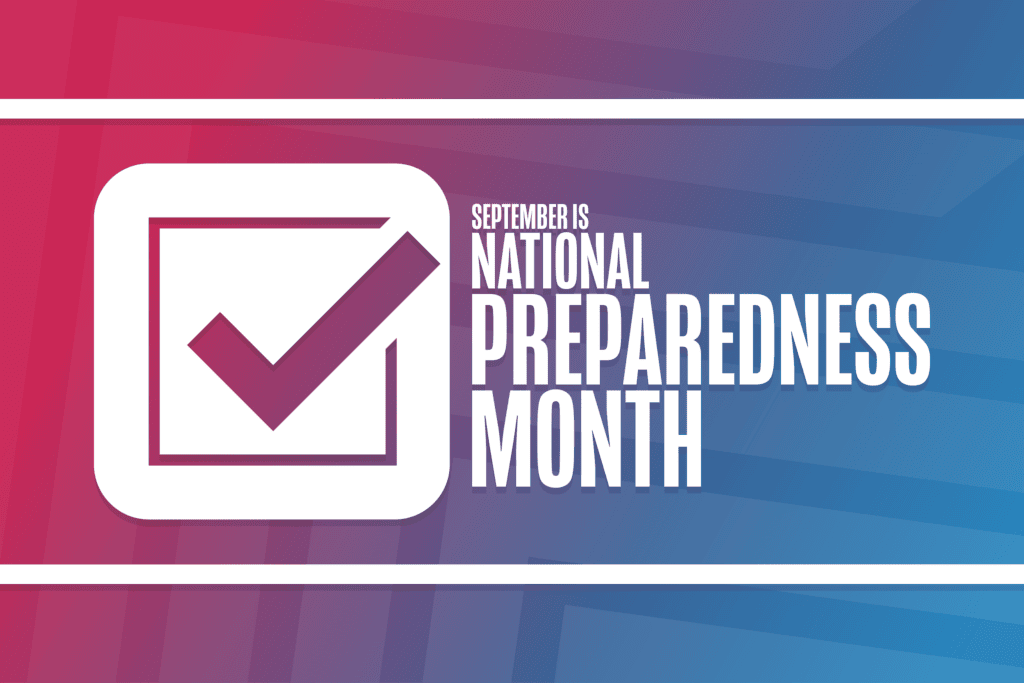 National Preparedness Month is an annual observance to raise awareness about the importance of preparing for disasters and emergencies that could happen at any time. President Joseph R. Biden issued a proclamation on August 31, 2023. "In America, we pride ourselves on emerging from every crisis stronger than when we entered it. That is because our people are resilient — and when we invest in preparing them for disasters seen and unforeseen, we can meet every challenge together. This National Preparedness Month, we recommit to doing just that: Building a stronger and more resilient Nation and equipping Americans with the resources they need to remain safe and secure." He went on to encourage "all Americans to recognize the importance of preparedness and work together to enhance our resilience and readiness."
The Internal Revenue Service (IRS) reminds everyone to develop an emergency preparedness plan or to make updates to their existing plan at least on an annual basis and as often as needed.
A Disaster Recovery Plan is recommended for all organizations and businesses so that when operations are interrupted, your team is equipped for the unexpected. Your workforce is the most precious asset. Downtime can be costly for an organization of any size. Sharing your plan across your company as well as training key people on their roles will help you to become operational faster. Review your plan annually so that your teams understand their responsibilities in disaster planning as well as when a disaster strikes.
SPS/GZ encourages individuals, organizations, and businesses to:
Secure and duplicate essential tax and financial documents. Store physical documents in waterproof containers in secure spaces. Consider having a relative, friend, or trusted person retain duplicate copies of all physical documents at a separate location, outside of the potentially impacted disaster area as well as in a secure digital location, such as a cloud-based storage application. Store printed copies of account numbers and contact information for key team members, family members, insurance agents, banks, service companies, and government agencies. Equip key team members with a telephone chain list and copies of necessary documents.
Create lists of property and business contents in a detailed inventory list. Record descriptions of possessions in photos, videos, and documents. Include the year, make, and model numbers, where appropriate. This kind of documentation helps support claims for insurance or tax benefits after a disaster hits.
Know where to find your information and assistance once a disaster occurs. This is crucial in saving time and resources. Reconstructing records after a disaster may be required for tax purposes, getting federal assistance or insurance reimbursement. Most financial institutions can provide statements and documents electronically, an option that can aid the reconstruction process.
Wildfire, storm, and flooding relief options are already available in several states in 2023, and the active hurricane season is quickly approaching. Disaster assistance and emergency relief often help businesses and taxpayers recover financially from the impact of a disaster. Having updated documents and other readily available information will help with relief applications from the IRS and other agencies when the federal government declares your area to be a disaster area. Additional time to file returns and pay taxes are other relief options to be aware of. For a list of areas qualifying for relief and details on the relief available, visit the IRS Tax Relief in Disaster Situations webpage.
SPS/GZ is a full-service tax reporting and stock plan administration firm that provides personalized service and exceptional support, utilizing state-of-the-art technology to business clients of all sizes. We create and e-file, 1099 filing services, including 1099-NEC, 1099-MISC, Forms 1042-S, 1098-T, Affordable Care Act tax forms, and Forms 3921 and 3922. Our complete and affordable solution allows administrators to simply upload their tax form data file to our secure portal in a few simple steps and we handle everything else to keep your organization compliant. Contact us today at sales@greenzapato.com or call at (888)375-3049.
Posted on September 14, 2023